Every once in a while I will get an email from a reader asking for advice on a problem area in their home.  Brittany and I have corresponded over the our purchases of our Taylor sofas from Thrive Furniture.  Recently she sent me some photos of her living room asking for my thoughts.  I asked her if I could create an inspiration board with suggestions and we agreed on the following parameters: 1.  Budget of $500 or less.  2.  Apartment living means no painting the walls.  3.  No pink.  (Okay, that one's not so difficult.)
So here are my initial thoughts:  Great foundation to work from.  Very cool mid-century pieces.  Of course, I love Taylor.  But I also love the surfboard coffee table and the Eames lounge chair and ottoman.  I think the shag rug and wool throw on the chair also add a great MCM vibe.  But as I look at these photos, what is missing for me is COLOR!  The white, tan and yellow are all warm tones that give it kind of an overall 'beige' feel.  She has a 'Thrifty Orla Art' piece inspired by this post with a great pop of blue color.  (I love it when reader's actually find my posts useful!)  I decided to start using that as a base.  Blues and yellows are great together.  And as an accent, I thought maybe a little bit of green.  Below is the board I put together but I will go through each piece as well.
First, I wanted to suggest something larger for artwork above the sofa.  I had a similar issue with my recent living room artwork.  I looked through Etsy, one of my favorite MCM resources, and I saw these four prints.  (Click on any image to link to the resource.)
These Etsy prints come from the Niko and Lily store on Etsy.  The ones for sale are 5×7″ ($39.95) but I think they need to be bigger for Brittany's room.  The store also sells 8×10″ individual prints for $14.95 each and I am sure they would make this set larger, which would be about $60 for the four.  Add in some Ikea frames that are usually $15 each and you have lovely artwork for $120.  Okay.  $380 left.  (You know, come to think of it, you could source some patterns in the same colors on the internet, print them out on a high quality color printer and frame them for even less!)
I really think the sofa and coffee table need some balance so we how about some end tables?  The ones on the board are from Etsy as well and a great deal for $89 for the pair.  They are Mersman, which I just bought a pair of myself at an estate sale.  I really like the MCM step style.  Brittany would have to pay for shipping, which I am sneakily not including in the $500 because I think with some patience, she could probably find another set of MCM end tables at a thrift store or estate sale too.  $291 left in the bank.
I love the yellow pillows on the sofa and think they would benefit from a complementary punch of color as well.  I found these pillow covers on….you guessed it…Etsy and would suggest using them on two of the four yellow pillows currently there.  They are a little pricey at $30 each, but I think that they are worth it.  $261 left.
And to sit on the lovely end tables and coordinate with the sofa pillows, I love these yellow lamps on Buy.com.  They are $45 each, including shade, leaving us $171.  (I feel like I am on the Price is Right or something.)
Nothing adds polish to a room like drapery.  I like these blue linen panels from CB2.  Now they are $60/each, which is also a little pricey and if Brittany has any talent with a sewing machine, she could probably make them for much less.  I would also throw in a curtain rod, which is probably about $20.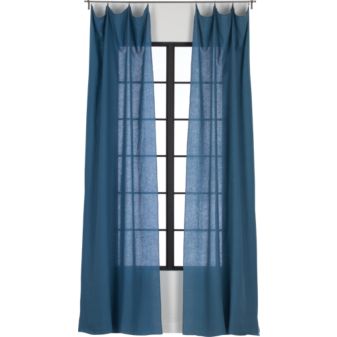 Eeek…that leaves $31.  Let's rethink that.  These from Target for $11.89 each.  Much better!  With a $20 rod and the Target panels, we have $127 left.
And while you're at Target, go ahead and pick up a simple white bookcase to put in the corner in place of the floor lamp.  The corner needs some brightening up.  The one I am thinking of is $54 and three shelves.  Grab a pint of paint and paint the insides a cheery yellow to get the effect of the bookcase below.
And we have $73 left.  On the board, I included photos of some object d'art for the end and coffee tables that say mid-century modern to me.  They are green glass vases from Target for $25 each, a blue bowl from Etsy for $19.99 and an Eames-like bird on rockers from West Elm for $29 (which I may just need to buy for myself).
So the grand total is $526, a wee bit over.  However, I think that the green glass vases and the blue bowl are things you could find at thrift store for way less, so let's just call it $500 even, shall we?  I hope Brittany likes the inspiration board and I am sure she is open to your comments and suggestions as well.